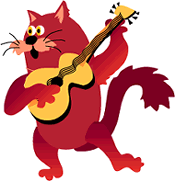 ...
.
...
Al "Beani" Beanoni

Al is a famous composer (Concerto in F Major for Trumpet and Strings, etc.), who supplements his meager earnings from classical music with more meager income as a rock musician. Together with his brother, Elf-Tone John (so-called because he looks rather like a little woodland creature) Al put together a band of artists who wear cat costumes onstage. They're called Beani and the Pets.





Copyright 1995, 1997, 2000 Jerry Jindrich.

All rights reserved.