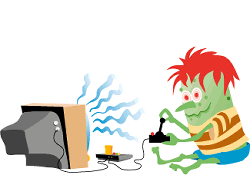 ...
.
...
Beantendo

Look in the Brain-Dead section of the electronics store to find Beantendo. One of the true "Lost Boys", this youngster thinks there's nothing more to life than video games. Sadly, he'll never learn the difference between a limping marsupial and the capitol of Malaysia.

To learn the difference, click here.





Copyright 1995, 1997, 2000 Jerry Jindrich.

All rights reserved.