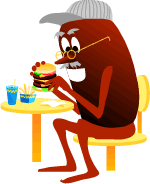 ...
.
...
Bean Workin' on the Railroad

Moe Handis, Ghandi Dancer for the Long Island Railroad has been seen on several occasions wolfing down triple cheeseburgers and Biggie Fries in the food court. Ask him about the old days of steam.





Copyright 1995, 1997, 2000 Jerry Jindrich.

All rights reserved.