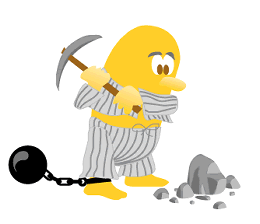 ...
.
...
Gar "Banzo" Beans

It was the best of times. It was the worst of times. Gar (A.K.A. Chic Pea) thought he'd hijacked a whole truckload of jellybeans.

Unfortunately, Gar doesn't read too well. The truck was full of jelly DONUTS, and, naturally, the police weren't far behind. It was a bad time for "Banzo". If you spot him, he must be out on parole.





Copyright 1995, 1997, 2000 Jerry Jindrich.

All rights reserved.